Dr. John C. Robinson, retired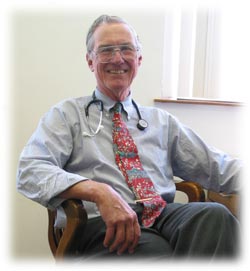 John C. "Jack" Robinson is a native New Yorker and a Princeton University and Tufts University Medical School graduate. He began practicing pediatric medicine in Milton, Mass., in 1967. Since then, his practice, now known as Milton Pediatrics, has grown to include 14 physicians.
To our great loss, Dr. Robinson retired from practice in 2012, however, he still maintains an active interest in pediatric medicine and the improvement of children's health.  For many years, as senior physician at the practice, with offices in Boston and Braintree, Dr. Robinson and his colleagues have welcomed many Harvard Medical School, Mass General Hospital, and Boston Children's Hospital students and residents to the site for training. The practice mostly cares for well children, although the size of the practice means that physicians also encounter rare and complex conditions that may receive supplemental care and consultation with excellent subspecialists available through the practice's hospital affiliations.
Dr. Robinson is licensed in Massachusetts and certified by the American Board of Pediatrics. His academic appointments include teaching fellowship at Harvard Medical School in his early career. He later served Harvard Medical School as an Instructor in Pediatrics and as an assistant clinical professor in Pediatrics. His hospital appointments have included Massachusetts General Hospital, Boston Children's Hospital, Beth Israel, Brigham and Women's Hospital, and Milton Hospital. He is a fellow of the American Academy of Pediatrics and member of the Massachusetts Medical Society. He also served as school physician at Milton Academy, an independent school, from 1972–2000.
His publications in Journal of Pediatrics, Pediatrics, and Clinical Pediatrics include several papers, including co-authorship on "Pediatric Symptom Checklist: Screening School Children for Psychosocial Dysfunction."
Dr. Robinson is married to June, his wife of 59 years now, has 4 children, 11 grandchildren, and one great-grandchild.